Saint Michael's Church is three Lutheran Congregations in one building in the city of Prague. Lutheranism in the Czech Republic has faced many challenges over the past 400 years. In a previous blog entry, I mentioned the Silesian Lutherans who were persecuted by Roman Catholic princes in the 17th and 18th centuries. Unionism with the Czech Brethren also influenced Lutheranism. The rise of communism, effectively eliminated Lutheranism in Prague which until the communist revolution was supported by Germans living in Prague. With the deportation of the Germans so went Lutheranism from Prague.
This stone column in Saint Michael's church dates back nearly 1,000 years. At the beginning of the 18th century, this church was given to German Lutherans. After communism fell, the church was given to the Slovak Lutherans in 1993. This marked the rebirth of Lutheranism in Prague.
An American pastor, James Krikava, from the ELS went to Prague and worked with the Slovak congregation. He eventually started an English service and was instrumental in the founding of the Czech service. So today three separate congregations share the building: the Slovak Congregation, the English Congregation, and the Czech Congregation.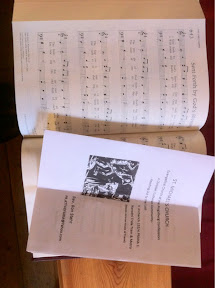 Imagine my surprise when I went to the English service at Saint Michael's and found the Lutheran Service Book (LSB). The English service is currently served by Pastor Ron Stehr from the Missouri Synod.
There were about 25 or so people in the English service, mostly expats but also a few locals from Prague.
The statue on too of the baptismal fount is of John Baptist pointing to the Lamb of God, who was baptized to fulfill all righteousness.
This stained glass window of Martin Luther was a gift from the German Lutherans in 1912.
Later that day, through the services of an interpreter, we heard a wonderful law and gospel sermon by Pastor David Jurech on the woman at the well.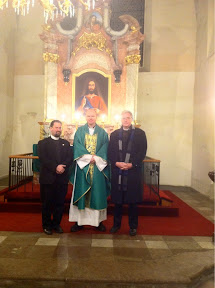 The Missouri Synod is not in fellowship currently with any Lutheran church in the Czech Republic but fruitful conversations are happening. There are some exciting opportunities for world Lutheranism now.
Prague is a beautiful city. It is great to see the rebirth of Lutheranism in Prague.
-Posted using BlogPress from my iPhone