Commencement Brochure
Dr. Scaer with President Harrison before commencement.
President Harrison with Dr. Wilhelm Weber, Jr., from South Africa. Dr. Weber is the father of Bishop Weber of the Lutheran Church South Africa (LCSA).
Rev. John Halakhe, General Secretary of the Evangelical Lutheran Church in Kenya (ELCK) receiving the Master of Arts degree.
Halahke, Collver, Quill after ceremony.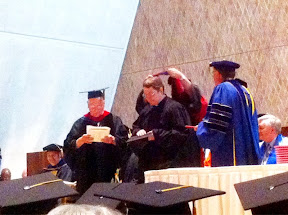 Alexei Streltsov from Siberia Russia receiving his Master of
Sacred Theology degree.
Tapani Simojoki from England receiving his STM.
Dr. Gennadij Khonin from Kazakhstan received his D.Min.
President Matthew Harrison receives Doctor of Divinity.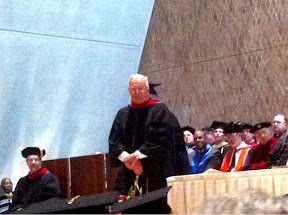 Dr. Wilhelm Weber from South Africa receives his Doctor of Divinity.
Dr. Dean Wenthe, President Emeritus of Concord Theological Seminary, receives Doctor of Divinity for his many years of service.
Flags representing the countries of students who received degrees.
Dr. Larry Rast, academic dean of CTSFW.
President Harrison's executive staff -- Barb Below, Kim Vieker, John Vieker, and Albert Collver after the commencement.
SDG
- Posted using BlogPress from my iPhone