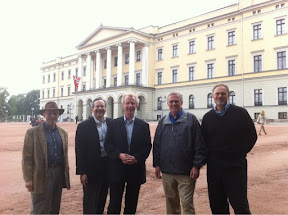 Alf Danbold, Dan Gilbert, Daniel Preus, Joel Lehenbauer in front of the Palace of the King of Norway. (Torkild hosted us at his home in Norway.)
I write as I wait for the bus to the airport. Yesterday, we held round two of theological discussions between the Lutheran Church in Norway and the LCMS in Oslo, Norway. Round one was held on 15 April 2011 in Saint Louis.
The discussions went well and there is great unanimity in
doctrine. Some further work needs to occur to determine the next course of action.
Flying into Götenborg, Sweden.
The previous day, Daniel Preus and flew to Götenborg to meet with Bishop Gustafsson, Rev. Dr. Bengt Birgersson, and Rev. Jakob Appell of the Mission Province of Sweden and Finland. The outcome of this brief meeting was that there should be further discussions between the Mission Province and the LCMS.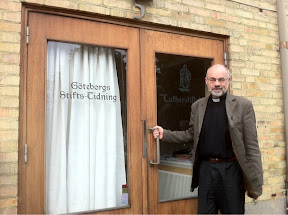 Rev. Dr. Bengt Birgersson
This trip to Scandinavia was very edifying and productive. We had opportunity to meet with other fine Confessional Lutherans such as Rev. Jan Bygstad of DELK (Norway) and Rev. Dr. Fredrick Sidenvall of Sweden. In fact Dr. Sidenvall hosted us at his home in Götenborg on the Swedish national holiday on June 6.
Daniel Preus and Jan Bygstad at the home of Dr. Sidenvall.

The skyline of Oslo, Norway.
On my way to the airport I reflect on how the Lord has preserved his church through out the world utilizing the confession of his faithful people.
A quick return to the USA and then off to South Korea and Japan.
"Built on a rock the church doth stand... Even when steeples are falling..."
- Posted using BlogPress from my iPhone
Location:Manglerudveien,Oslo,Norway