Today on our last day in Kyrgyzstan, we were able to travel to villages nearby Bishkek. The mountains provided a beautiful view. Some of the Russians who lived in Bishkek before the fall of communism told us that the hillsides had thousands of sheep tended by Kyrgyz on collective farms. After communism fell, the Kyrgyz moved into the cities, where there is high unemployment.
The mountains are not always visible from Bishkek due to smog. A short ways outside of the city, there is great natural beauty. In a village not far from the stream pictured above, fresh trout were for sale.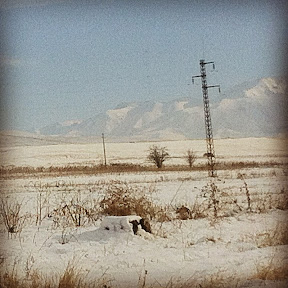 The scenery that we saw was not intentional, rather it was the view from the car window as we traveled from Bishkek to the outlying villages.
Along the way, we visited a national monument called "Father's Cemetery." Buried here are people who died during the Soviet revolution. This was first constructed around 2001. Within the past couple of months another monument (pictured above) was constructed to commemorate those who died in the May 2010 uprising.
This monument shows how people were murdered during the Soviet revolution with their arms bound behind their backs.
Pictured above is a Russian Orthodox church in a Kyrgyz village. Most people in Kyrgyzstan would like for only two religions to exist: Russian Orthodox and Islam. Most government officials are muslim. Because of this fact, other religious view points face great scrutiny and persecution. Other religious groups can legally exist but with strict regulation. If these other groups attract too much attention, they face additional attention by local officials.
A mosque in a Kyrgyz village. In 1993, there was one mosque in Bishkek. Today, there are more than 2,500 mosques in the surrounding territory.
A local restaurant in Bishkek, where we ate dinner. This restaurant did not accept credit card for payment, however, the waitresses used Apple iPod Touches to place the order in the kitchen and to tally the bill.
The Shumkar Hotel where we stayed in Bishkek was named after a southern mountain range in Kyrgyzstan.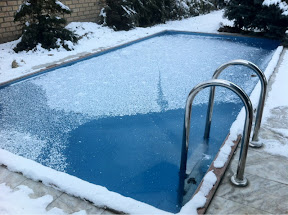 The hotel offered swimming facilities. Unfortunately, none of us were into polar bear swimming.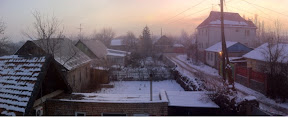 A view from my hotel window.
The mountains at dusk.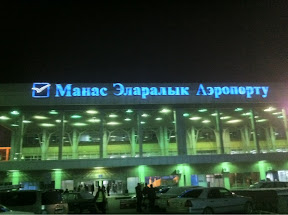 We arrived and departed from the Manas International Airport around 4 am. The trip to Kyrgyzstan went well and I hope to return again.
-- Rev. Dr. Albert B. Collver
- Posted using BlogPress from my iPhone
Location:Isanov St,,Kyrgyzstan