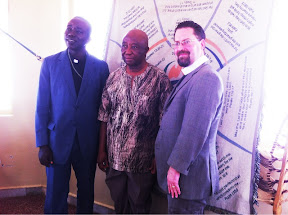 Bishop Amos Bolay, Vice-President of the Republic of Liberia Joseph N. Boakai, Rev. Dr. Albert Collver
This morning we had the privilege of meeting with Joseph N. Boakai, Vice-President of the Republic of Liberia.
Dr. Mike Rodewald, Bishop Amos Bolay, Vice-President Joseph N. Boakai, Dr. Albert Collver, Dr Joel Lehenbauer, Dr. David Erber
Although Lutheranism has been in Liberia for 150 years, we had opportunity to explain how the Evangelical Lutheran Church of Liberia came into existence in 2009. Bishop Bolay emphasized to the Vice-President that the ELCL was not a break away group from the Lutheran Church of Liberia (LCL), but rather the union of four separate groups that came together. He explained the connection the ELCL has with The Lutheran Church - Missouri Synod. Bishop Bolay politely explained some of the differences between the LCMS and the ELCA.
We had opportunity to give greetings to the Vice-President on behalf of President Harrison and the people of the LCMS. As well as describe the work of the LCMS around the world, particularly in the area of education and humanitarian work. We gave the Vice President a booklet describing the LCMS.
Dr. Collver asked the Vice-President what the greatest challenge Liberia faced. The Vice-President replied, "Harnessing the energy of Liberia's youth in a productive way." He went on to explain this is why educational and vocational programs were essential to Liberia's future.
The Vice-President also noted some differences between America and Africa in general. He said in America the people waste little time and are very efficient. In Africa, lots of time is wasted but in the process many friends are made.
We thanked him for his time and the friendship he showed us and closed with prayer.
Vice President Joseph N. Boakai and Naomi Erber
- Rev. Dr. Albert B. Collver, Director of Church Relations
Posted in Monrovia, Liberia on 3 January 2011.
- Posted using BlogPress from my iPhone
Location:Rehab Rd,,Liberia