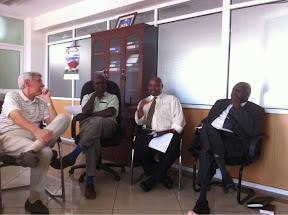 Today we went to the ELCK headquarters in Nairobi, Kenya. Bishop Obare and Rev. David Chuchu gave us an update on projects between the ELCK and the LCMS, especially 1001 Orphans and Project 24. Currently, the ELCK is caring for slightly more than 1000 orphans with the assistance of the LCMS.
When people in America hear of an orphanage, the image is of children in an institutional setting. Yet this is not the "orphan" program in Kenya. The children remain connected to their family. The 1001 Orphans program works more like a boarding school. The children are provided with shelter, meals, Lutheran catechesis, and education either through the Kenyan public school system or by the church itself. On breaks every two or three months, the children stay with their families or extended families. Then after break the children return to the orphan program. Such an arrangement resembles a boarding school and is not uncommon for children in Kenya.
Pastor David Chuchu provided an update about the draught in Kenya. Many people including members of the ELCK and some pastors are facing starvation. However I was unable to upload the video.
Here is Luther Plaza, the headquarters of the ELCK. The building wad built with the help of LCEF. The church has offices, a hall, and a cathedral. The remaining space is rented out and used to reply the LCEF loan. A great example of entreprenialship.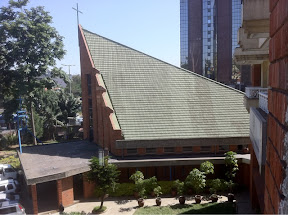 ELCK Cathedral
We also met with LCMS mission personnel in Nairobi and shared lunch, some of the best pizza we have had overseas. Tomorrow we head to Mombassa.
Kenya Landscape
- Posted using BlogPress from my iPhone
Location:Muhoya Ave,Nairobi,Kenya