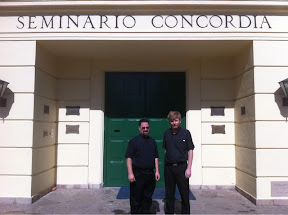 Rector Sergio Fritzler and abc3+ (Pastor Ted Krey taking picture)
Notice involvement of the Lehenbauer family who were also active in Brazil and the Missouri Synod.
The theme of the convention for the Lutheran Church in Argentina (IELA).
The church year chart.

Every church needs a barbecue.
We had barbecue for lunch.
Posted using BlogPress from my iPhone
Location:Au. Rosario - Santa Fe,,Argentina