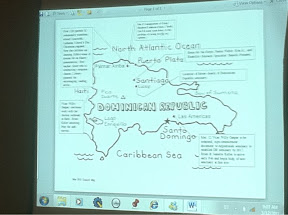 Since Friday I have been in the Dominican Republic for an update on the LCMS' mission effort here and partnership with the South Wisconsin District and Bethesda. We are here for the 5th anniversary of the Dominican Republic Lutheran Mission, the LCMS mission effort here. The earthquake in Japan seems far removed from here but is upon everyone's mind.
Rev. Ted Krey, LCMS Regional Director for Latin America, explaining the work in the Dominican Republic.
Some of the people around the table.

The view from the beach.
- Posted using BlogPress from my iPhone