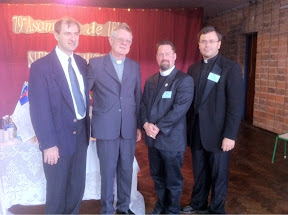 President Emeritus Edgardo Eleaser (IELA), President Elect Carlos Nagel (IELA), abc3+, Pastor Ted Krey (LCMS Latin America Regional Director)
Yesterday (26 March 2011) the Evangelical Lutheran Church in Argentina elected Carlos Nagel to be their new President. Today, at the Divine Service, the outgoing president -- Edgardo Eleaser who served two terms -- installed Carlos Nagel as President. Coming from the Missouri Synod, I found it rather striking for the former president (who was term limited) to install the new president. Coming from the Missouri Synod, I also found it amazing that the installation service was the next day.
After the service I commented on this to the now President Emeritus Edgardo Eleaser. He replied, "In the past some elections had been contentious and tensions would run high at the installation. It is easy when you agree on the Confessions and when you are moving in the same direction."
Wise words.
President Carlos Nagel gave a very humble acceptance speech in which he said you get what you see and that I am really nothing, but it is Christ who works through our weaknesses.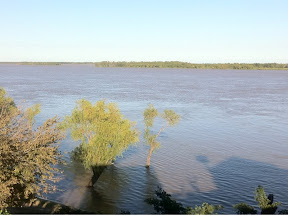 Santa Elena is a town along the river.
Now I don't mean to paint the IELA as a perfect church. No she isn't. She is truly a sister of Missouri, struggling with many of trials that we do. It is a church under the cross that is attempting to remain faithful to the Scriptures and the Confessions. But there is a good spirit among her pastors.
Barbecue photos
After the installation there was an Argentinean Barbecue with 400 kilos of meat. After the barbecue nearly all the meat was gone.
Picture of the Roman Catholic church in Santa Elena, Argentina.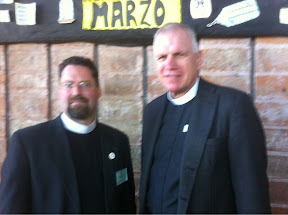 Pastor James Fandrey of the Lutheran Heritage Foundation also attended the IELA's convention. It was good to spend a few days getting to know him and to discuss how LHF and the LCMS could partner better.
After the service and barbecue, Missionary Ted Krey and I took at 3 hour taxi ride to Santa Fe to the airport. Once at the airport, we learned our flight had been canceled. Now we need to take the bus to Buenos Aires... One of the downsides of travel.
- Posted using BlogPress from my iPhone
Location:Ruta Nacional 11,,Argentina